Hi, I'm ArtMIND.
I'm here to help you find artworks that will inspire and engage you, based on your preferences.
The Philadelphia Museum of Art has a world-renowned collection, and I'm sure we can work together to help you discover what the collection has for you.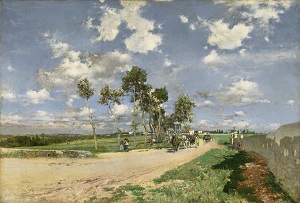 Highway of Combes-la-Ville
Giovanni Boldini, Italian, 1842 - 1931
1873
Oil on canvas
See on Map More Info
I've selected 10 artworks from the Philadelphia Museum of Art galleries for you. Let me know what you like and don't like, and I'll give you some personalized recommendations.